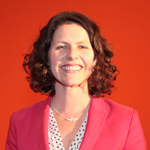 Laura Brandon is the Executive Director of the Globalization and
Localization Association (GALA). She
oversees operations, staffing, and programming for the association of over 400 member
companies in 50+ countries. Laura
currently serves on the advisory board of the Localization Certification
Program for the University of Washington. She has a degree in French from the Agnes
Scott College and a "License" in Art History from the Université de Provence.
Term: Post-editing
Email: lbrandon@gala-global.org
Website: gala-global.org
Twitter: @laura_brandon
LinkedIn: linkedin.com/in/laurabrandon/